A wood-burning stove (also known as a wood stove) is a heating appliance made from iron or steel capable of burning wood fuel. Unlike a standard fireplace, a wood stove is typically contained entirely within the living space rather than inset in a wall.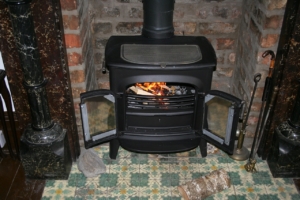 Wood stoves come in many different sizes, each suited for another purpose.
Small stoves are suitable in single rooms, seasonal cottages, or tiny, energy-efficient homes. These models can also be used for zone heating in large houses where supplemental heating is needed.
Medium-size stoves are appropriate for tiny heating houses or mid-size homes that are intended to be energy-efficient and as inexpensive as possible.
Large stoves are used in larger or older homes that leak air and are located in colder climate zones.
To ensure the safe and efficient use of wood-burning stoves, inspectors can pass along the following tips to their clients:
Never:
Burn coal. Coal burns significantly hotter than wood, posing a fire hazard.
Burn materials that will emit toxic chemicals, such as wood that has been pressure-treated or painted, colored paper, gift wrapping, plastic, plywood, particleboard, or questionable wood from the furniture.
Burn wet wood. Generally speaking, it takes six months for cut, stored timber to dry out and be ready for use in wood-burning stoves.
Burn combustible liquids like kerosene, gasoline, alcohol, or lighter fluid.
Let small children play near a lit wood-burning stove. Unlike standard fireplaces, whose sides are primarily inaccessible, all sides of wood stoves are exposed and capable of burning flesh or clothing.
Let the fire burn while the fire screen or door is open.
Always:
use a grate to hold the logs so that they remain secured in the stove and the air can circulate adequately around them to keep the fire burning hot;
keep the damper open while the furnace is lit;
dispose of ashes outdoors in a water-filled, metal container;
check smoke alarms to make sure they are working correctly; and
periodically remove the stovepipe between the stove and the chimney so that it can be inspected for creosote. Homeowners may want to hire a professional to perform this service.
https://www.signaturemore.com/wp-content/uploads/sites/19/2022/11/fireplace-195296_1280.jpeg
853
1280
signature
https://d3bfc4j9p6ef23.cloudfront.net/wp-content/uploads/sites/19/2018/10/23205029/logo_PAR_ver21.png
signature
2022-11-15 16:09:14
2022-11-15 16:09:14
Wood-Burning Stoves