Water Heaters That Are Installed in Garages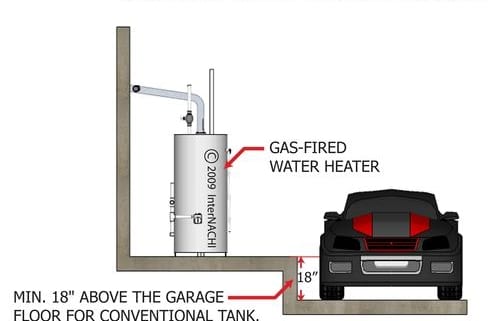 Water Heaters That Are Installed in Garages – You may live in an area of the country where the majority of water heaters are located in the garage. It is acceptable to have water heaters in the garage but there are some things that you
need to be aware of. The authority on determining what the requirements are for residential water heater installation and safety is the ICC (International Code Council). The following information is taken from the 2009 International Residential Code (IRC) section P2801.6 and P2803.6.1 commentary.
Water heaters having an ignition source shall be elevated so that the source of ignition is not less than 18" above the garage floor. An ignition source could be many things, including an open flame, electrical switch, open resistance heating coils, or an electrical igniter unit. Residential garages have a high potential for volatile liquids, such as gasoline and paint thinners that can spill or leak from their containers. Because the vapors from these liquids are heavier than air, they concentrate just above floor level, posing an explosion hazard in garages with a water heater.
Many electric water heater thermostats have enclosed contacts, but they are not sealed gas tight. Therefore, if an electric water heater with an ignition source located less than 18" from the bottom of the unit, it is required that the unit be elevated so the ignition source (thermostat) is at least 18" above the garage floor. Electric water heaters having all switching controls located above 18" from the bottom of the water heater are not required to be elevated.
Gas-fired appliances have to meet the elevation requirement for elevation above the garage floor, but have an exception to allow gas-fired appliances having flammable vapor ignition resistant (FVIR) design to be installed without elevating the unit.
Signature Home Inspection is a Certified Home Inspection service located in California serving Orange County, San Diego County, Los Angeles County, Riverside County, Santa Clara County, San Mateo County, San Francisco County, Contra Costa County, and San Bernardino County California.
www.signaturemore.com                                               888-860-2688
https://www.signaturemore.com/wp-content/uploads/sites/19/2013/07/Water-heater-in-garage.jpg
382
500
signature
https://d3bfc4j9p6ef23.cloudfront.net/wp-content/uploads/sites/19/2018/10/23205029/logo_PAR_ver21.png
signature
2013-07-21 12:04:32
2018-11-30 22:52:02
Water Heaters That Are Installed in Garages